Club History in Detail
Quick Links:
Club beginnings – year 2000
The St George/Sutherland Branch of the Ulysses Club Inc was started by Don Phinn of Blakehurst. Don had been a long-time rider who was returning to motorcycling after a break (sound familiar?). When purchasing a motorcycle from Brian Ward, Brian mentioned he was a member of the Ulysses Club, but told Don there was no branch in his area – just the Sydney Branch. Brian suggested to Don he should start a local branch.
The first official meeting was held on Wednesday the 11th of October 2000. The agenda involved the voting of the inaugural President, and discussion and voting for other committee positions. Discussion was also had on the group's name, meeting days, location, intentions of the group and the first rides.
Don Phinn was elected President, and it was decided to vote for a Secretary and Treasurer and call for volunteers for other roles such as group captain and/or two run leaders.
Elected to those positions were Secretary Bill Schiralli and Treasurer Glenn Packwood. Tony Lamb and Merv Fletcher volunteered to be 'Run Co-ordinators'.
Christine Lamb volunteered to be Social Secretary and Christie Dodd volunteered to be Newsletter Editor.
It was decided to name the group "St George /Sutherland Group", with meetings to be held at the Kings Head Tavern on the second Monday of each month.
The intentions of the group were to be recorded as the same as the Ulysses Club. Regarding finances, it was decided to operate a "cookie jar" and start off asking for a $1 donation from each attendee at the meetings and rides to pay for stationary and other essentials while raffles were to be run to boost funds.
Funds raised by the club were to be donated to two charities – a local St George/Sutherland charity to be decided, and the nominated Ulysses charity.
Rides were to be planned by the run co-ordinators with Caltex Heathcote being the general starting point – and another location if heading north.
Five people attended the first meeting and ways to recruit new members were discussed. It was planned to take a group photograph at this first official meeting but the designated person forgot the camera!
The second meeting was held on the 13th of November 2000. New members included Neil Doig. Caringbah Motorcycles donated the first of a regular monthly raffle prize for the meetings – a $40 gift certificate. It was decided to hold a Christmas BBQ at Woronora Dam on the 9th December.
Development of a group website was discussed with rides to be posted on the main Ulysses website. A group logo was discussed, as well as name tags. As numbers of attendees was increasing quickly, it was decided to investigate other larger venues.
The first guest speaker was Phil Foster from Motorcycle Roadcraft – a rider development course run at Quakers Hill TAFE.
The meeting of 11th December 2000 was to be the last at the Kings Head Tavern. Another ten new members attended and it was very cramped. It was decided hold future meetings at the Crest Hotel, Sylvania. Planning was well underway for the first group weekend away to Mt Seaview on the Oxley Highway in February. The "cookie Jar" now had over $100 in it – so a bank account was organised.
Merv Fletcher reported on the first few rides and the first newsletter was presented to the meeting by Christine Dodd.
The Christmas BBQ was well attended in fine weather.
2001
The first meeting held at Sylvania on the 8th of January 2001 had 46 people in attendance. It was clear the branch was growing quickly. The March meeting had 64 attendees and the April meeting had 68. This meeting was addressed by Kim Kennerson from NATCOM who spoke about the club's upcoming AGM and encouraged members to attend.
Branch funds were increasing and plenty of day rides were planned. The first weekend away to Mt. Seaview was a success.
Other weekends away during the year included Barmedman, Nabiac, Tumut, Wallerawang and Narooma. The first midweek ride was planned.
Plans were being made for the group's first social event – a river cruise, and around 16 members attended the first trip to an AGM on The Gold Coast.
The branch's popularity was gaining attention and June 2001 saw a full-page article and colour photograph about the Branch in the "Drive" section of the St. George and Sutherland Leader. We were approached to assist officials at the Kurnell triathlons.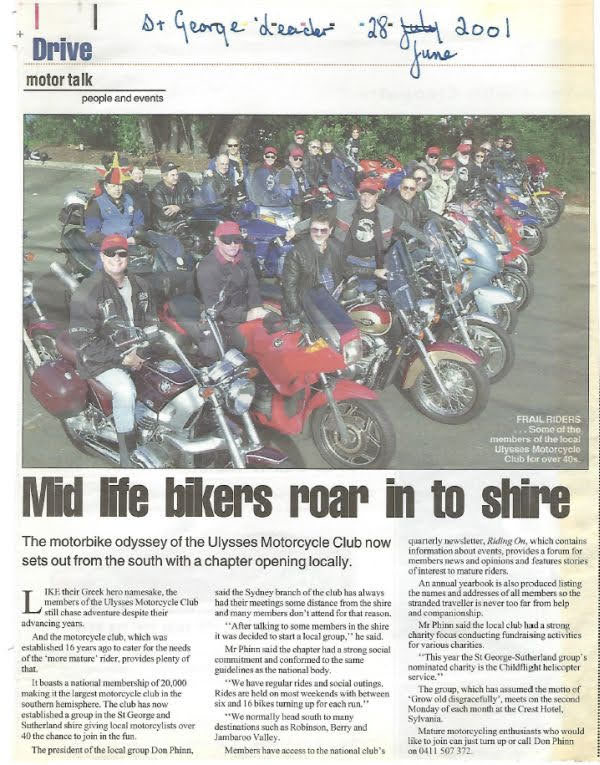 The first Annual General Meeting of the branch was held on the 12th of November 2001. Annual reports from each office bearer showed that the group had developed very quickly into one of the best Ulysses branches in Sydney. 80 people were present and most of the founding committee was re-elected – Don Phin as President, Glenn Packwood as Treasurer. Garry Palmer replaced Bill Schiralli who stood down as Secretary, Merv Fletcher as Ride Captain, and Ron Walker and Tony Lamb as his ride co-ordinators. Christine Lamb continued as Social Secretary and a social committee of Michelle O'Dea, Margaret Rowling, Jan Martin and Lex Azzopardi were elected to assist. Christie Dodd continued as Publicity Officer.
Average attendance at meetings was now over 60 people and rides were well attended. Don Phinn was rightly very proud of what had been achieved in 12 months.
2002
2002 saw the branch continue to grow. A large number of members attended the AGM in Mt Gambier. Weekends away to Dunedoo, Narooma and the Snowy Ride were also well attended. Many great day trips were held to places such as Yarramalong Valley, Gerroa, Oberon, and the Hunter Valley. Shorter coffee rides were scheduled for the newer riders.
Guest speakers included the founder of the Ulysses Club, Stephen Dearnley, aka "Old No. 1" and Peter Thoeming aka "The Bear" of Road Rider Magazine.
In the early days of the branch, the committee would meet at the Como Marina on the Saturday before the Monday meetings for breakfast, coffee and the general planning of events and meetings. Christie Dodd stepped down as publicity officer, and Neil Doig stepped in and produced a few newsletters and set up the regular email to members.
The 2002 branch AGM in November saw Don Phinn retire as President. He felt his work in setting the branch up was done, and Garry Palmer succeeded him. Lex Azzopardi was elected Secretary, Glenn Packwood Treasurer, Ron Walker and Kevin Allen as Run Co-ordinators, Margaret Rowling as Social Director and Gillian Blackburn as Publicity Officer.
2003
This year started with what would prove to be one of the most popular and regular weekends away – Crookwell – organized by Kevin Allen. Since the first trip we returned each year in large numbers. Also for the first time we went to Jamberoo Valley Lodge for "Christmas In July", organised by Ian Bosler. This also the became an annual event.
The branch AGM was held in Mudgee in March and a large contingent from our branch attended. Other weekends away during the year were to Forster, Shoal Bay and Merimbula/Araluen. We also attended the Snowy Ride as a group for the first time. A regular calendar of weekend day trips to places such as Huskisson, the Blue Mountains, Southern Highlands and South Coast was always in place. The meetings had some interesting guest speakers from the motorcycling industry and other fields. We had two groups do HART advanced riding courses, and a great social night at Bexley Golf Club. There were many great day rides to the usual places and we also supported the Pink Ribbon Ride in big numbers.
A Christmas BBQ was held again at Woronora Dam in December.
On a sad note, early 2003 saw the passing of Don Delandro. Don was a fixture in our branch for the first two years. He was one of the early members of the Ulysses Club, and his knowledge of rides and roads was fantastic. He filled the role of ride leader on many occasions and loved giving his ride reports to our meetings and finishing with a corny joke.
The 2003 branch AGM was held on the 13th of November. Garry and Lex were re-elected President and Secretary as were Margaret and Gillian as Social Secretary and Publicity Officer. Glenn Packwood and Ron Walker stood down, to be replaced by Perry Veltmeyer (Treasurer) and Ian Bosler (Ride Captain). Annette Bollard was co-opted to assist Margaret.
2004
2004 started with a couple of new ideas for rides in summer. An early start to Terrigal for breakfast, and a late start for a twilight ride and dinner – both very popular. Weekends away included Crookwell again in January, Mudgee in February (in a heatwave), Dubbo in April, Gloucester in May, Mt Seaview in June, Jamberoo for Xmas in July, Ulladulla in August and Armidale/Dorrigo in October. We also had large contingent go to the AGM in Geelong and support the Pink Ribbon Ride and Snowy Ride charity events. We had a few social events including a night at Dirty Dicks and a large Christmas function at the Crest Hotel – which was attended by the Natcom Secretary and Treasurer.
The 2004 branch AGM was held on the 8th of November 2004. This saw two long standing committee members retire – Garry Palmer as President and Margaret Rowling as Social Director. Lex Azzopardi was elected to succeed Garry, Neil Doig was elected Secretary and Annette Bollard succeeded Margaret. Perry, Ian and Gillian retained their positions.
2005
Early 2005 again saw a first for a different ride – Midnight to Dawn. There was a great line up of rides, including weekends away to Crookwell, Tumut and Gundagai, Denman in the Hunter Valley, Forster, Mudgee, Armidale and Xmas in July at Jamberoo. A large group ventured to Canberra in March for the Club AGM and we again had a huge group attend the Snowy Ride in Thredbo. Some of our trips were organized as combined rides meeting other groups along the way, and the ride to Armidale involved Ulyssians from Port Stephens, Gloucester, Forster and Armidale – and it made the cover of Riding On Magazine.
This year also saw for the first time the involvement of our branch in Breakfast Torque held on 29th October. Led by Garry Palmer and Peter Jacques with sterling support from the committee and members, our participation was a major contribution to the success of the event and did much to enhance the image of our branch.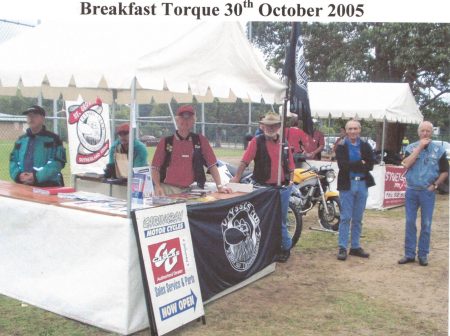 This year two Christmas functions were organised – a river cruise and a party at a hotel. Both were well attended.
Our AGM was postponed to June 2006 to come into line with Club guidelines.