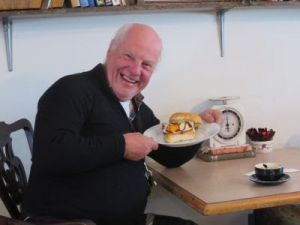 It is with great sadness that I inform you that our dear friend and colleague Garry Kent passed away on the morning of 23rd November.
Garry was a much loved and respected member of our branch. Garry made you feel like a friend from your first meeting
and was someone whom you would enjoy being on a ride with and having a chat and a laugh with.
He was a storyteller, a mine of information and someone who could pack more onto a motorcycle than anyone I have ever seen.
It never ceased to amaze me what he could pull out of his luggage when we were on a trip and he never seemed to be overloaded and I was envious of this ability.
I commented on it more than once and someone told me that it was learned in his scouting days but I think that he mastered the concept of the TARDIS:
small on the outside but limitless on the inside!
Garry was everyone's friend and he will be sadly missed. Another one of our friends taken too soon.
Our thoughts go out to Garry's wife Margaret and their family. Farewell Garry.